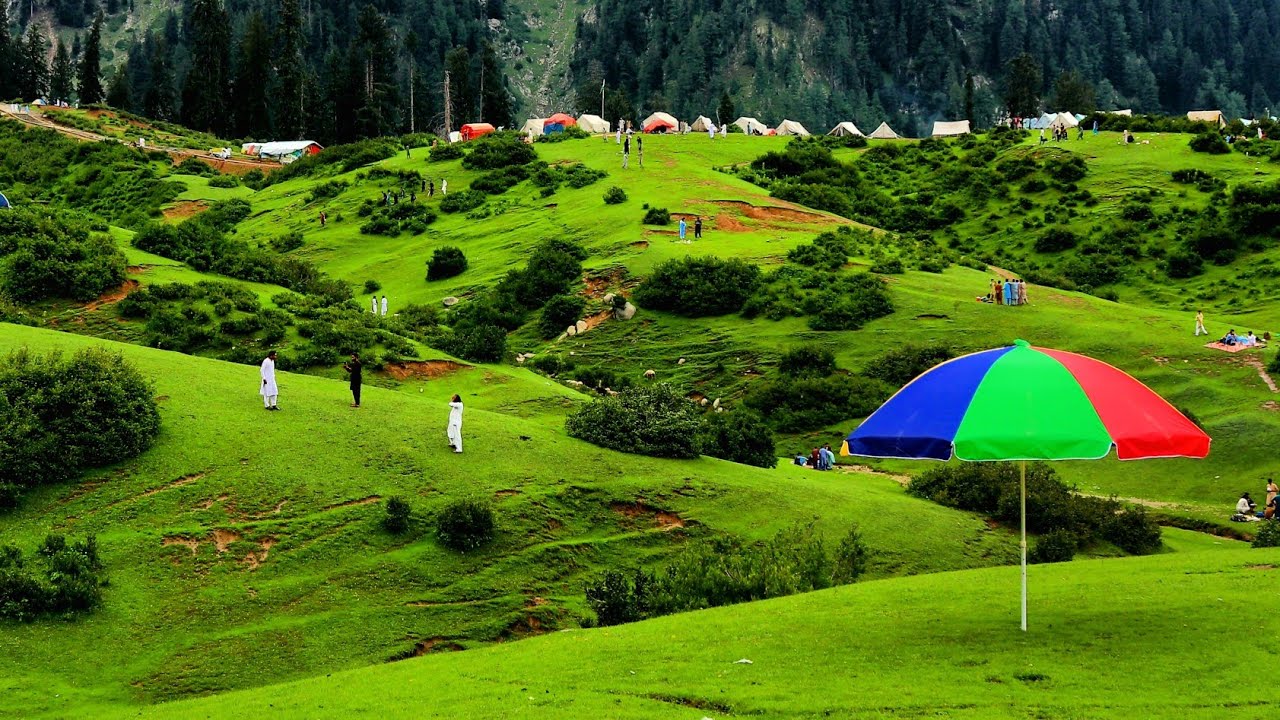 Beautiful view of Gabin Jabba with some Camps by the hikers – Captured by Local Guide @MuradAhmadShah
Swat is a beautiful Valley situated in the Khyber Pakhtunkhwa province of Pakistan. An outstanding place famous for its natural beauty and known as Switzerland of Pakistan.
Today I want to share something about an awesome spot of Swat, Called Gabin Jabba. It is one of the spots in Swat valley with green meadows, midst woodlands, snow-covered mountains, mineral springs, and high cliffs.
Gabin Jabba is a "Pashto" word that means honey marshes. Honey bees are found here, and the honey of Gabin Jabba is quite popular all over Pakistan. Researchers also have conducted some experiments on remedial plants found in the Gabin Jabba region.
It is located nearly 53 km from Saidu Sharif Airport with a height of 2582 meters from sea level.
The highway of Gabin Jabba is all built, well maintained and clear. There are 2 routes from Mingora city's downtown. One is through Manglor side and the other is through Matta road.
If you are a nature lover and you love hiking, camping, want to spend your quality time in pure nature  and you are planning for Gabin Jabba then you are in the right direction to get the peace of soul and mind.
Natural

It is full of greenery and springs in the summers, and if you are visiting here in winter, you can get the best place for skiing. I love Gabin Jabba more in Winter, when the whole valley is covered with a white blanket of snow, believe me this view is incredibly amazing.
If you are visiting Gabin Jabba, you can find many great facilities than other spots of Swat,
Parking system is too good, you can park your car before beginning hiking to the meadows. From parking, it's about 30 minutes of hiking to the Meadows.
If you are in Gabin Jabba, don't worry about food, there are a lot of choices of restaurants on this beautiful hill spot, not only fast food and Pakistani Cuisine, but here you can have a unique experience to catch a trout fish from pond (pond of the trout fish form) and cook it by yourself in a restaurant's kitchen as your taste buds, or can get the services of local chefs to convert a fresh pond trout into a delicious spicy dish .
I always have a lot of fun there. As a resident of Swat it's easy for me to visit Gabin Jabba because it's just a few Kilometers far from my hometown Saidu Sharif, and usually I visit the top cliff of the Gabin Jabba for Yoga and meditation from where all the meadows can be seen.