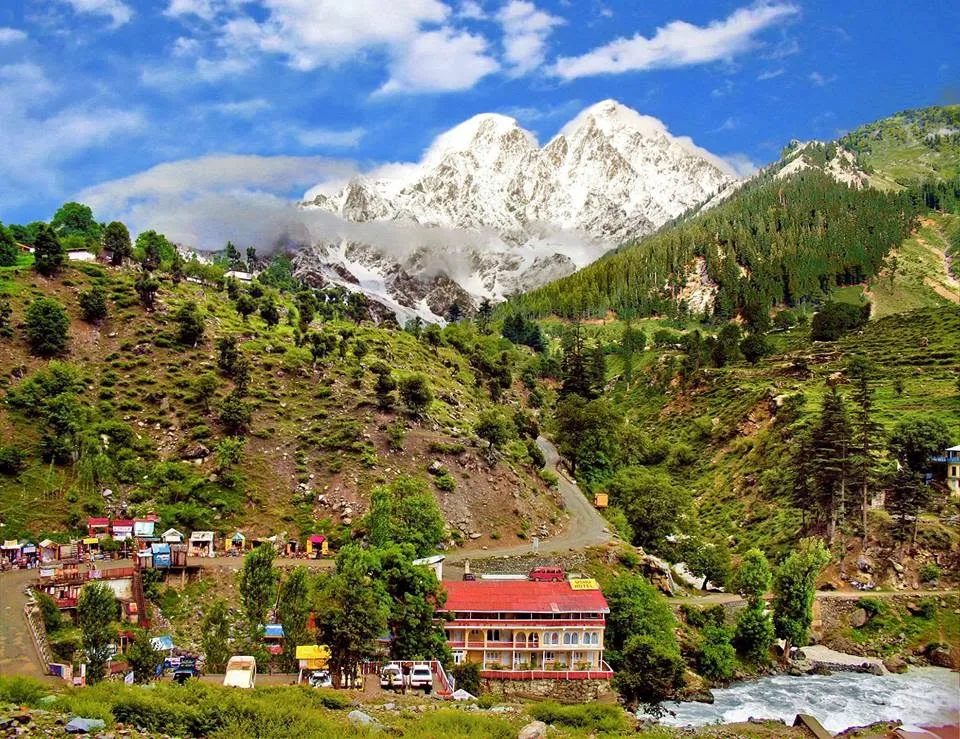 1.   Kalam Town
Kalam town is a beautiful small town and has many good hotels. It is located in a beautiful valley at the junction of the Swat and Ushu rivers. The scenery all around is spectacular. It is geographically an ideal place to make it your base camp and explore the wonderful places all around it. Moreover, it has all the facilities a tourist might need, good hotels, nice places to eat and shops to cater to your basic shopping requirements. And yes, the scenery all around is simply breathtaking.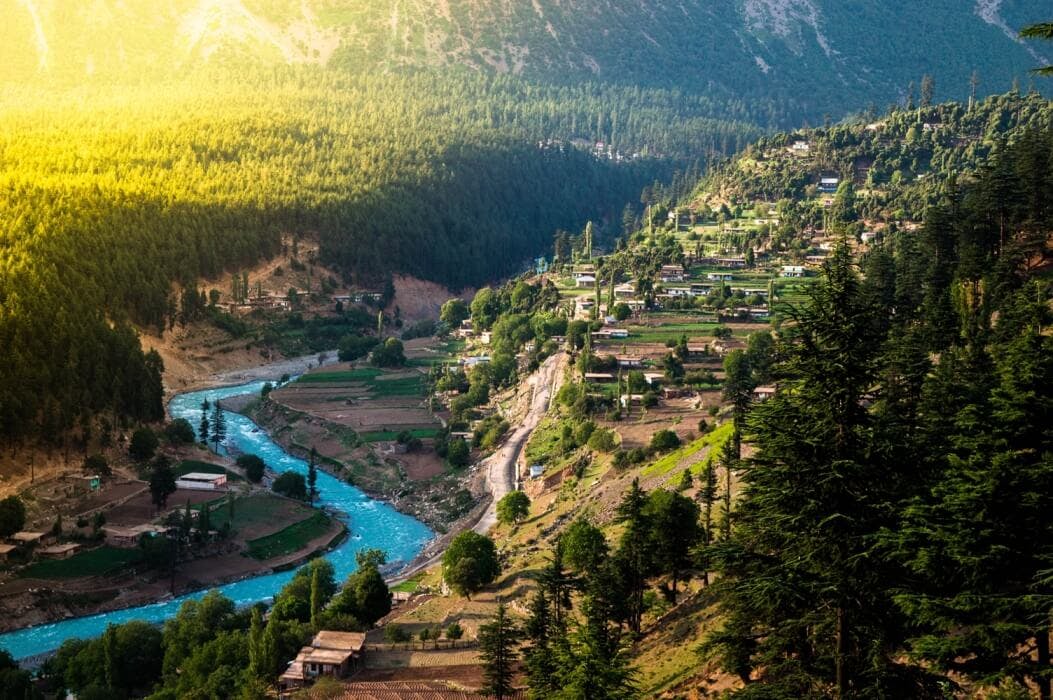 2.   Green Top Kalam View Point
It is an excellent picnic point, just 4 kilometers away from Kalam. It is at a height of a little over 2300 meters. As the name of the place suggests it is a great point to see the Kalam valley below. From this vantage point, you can observe the beauty of Kalam and the whole valley below. A must-see attraction of Kalam valley.
If you are in Islamabad and are looking for a getaway, look no where else.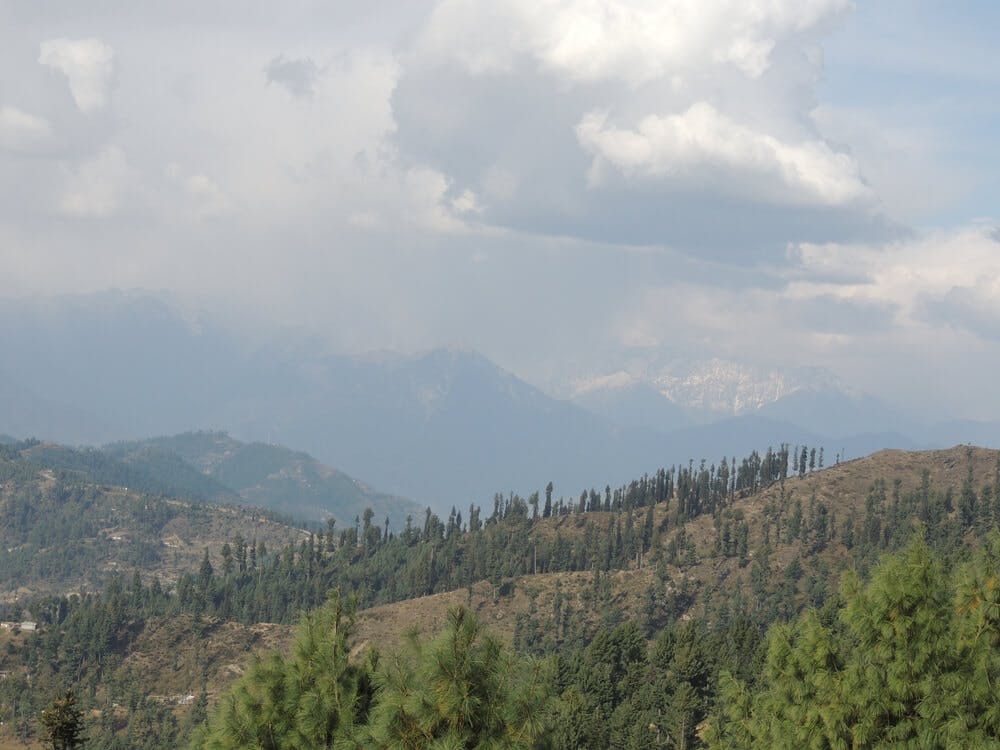 3.   Ushu Forest
Ushu forest is in the northeast of Kalam at a distance of a couple of kilometers. It is a spectacularly beautiful place, with lush green trees all around. The road to Matilan up the Ushu valley passes through this forest. An ideal place for trekking and camping. The beauty and serenity of the place is difficult to describe in words.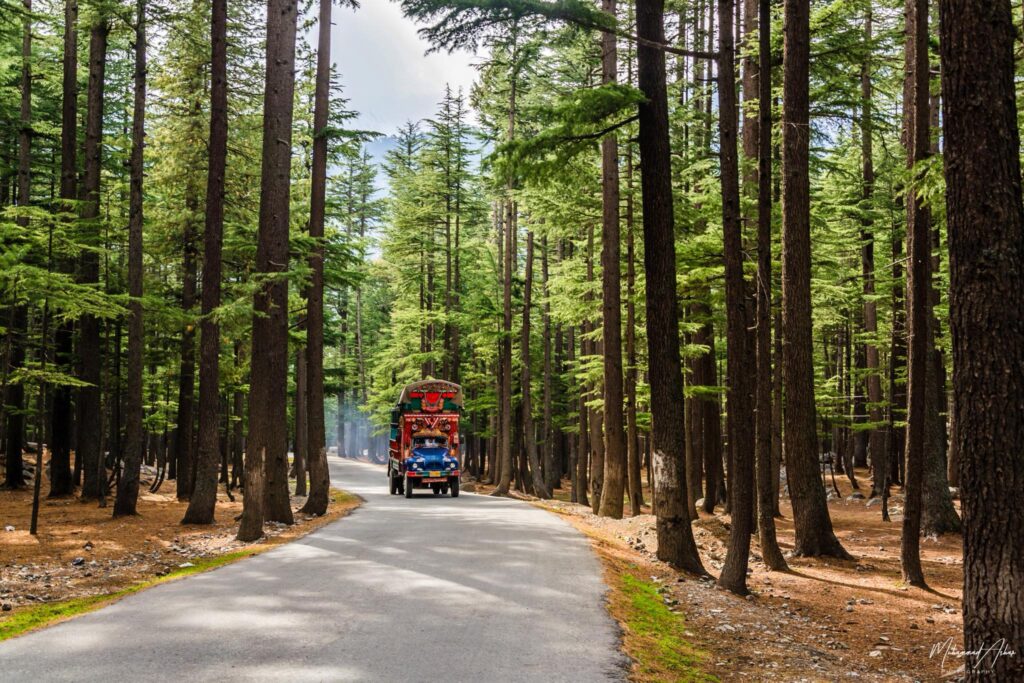 4.   Matilan
Matilan is a small village in Ushy valley at a distance of about 11 kilometers from Kalam. It comes after the Ushu forest. The road is a little difficult to travel on, but the scenery is worth this little trouble. A small river called Ushu also gushes through the stones in this valley. The lush green hills and forest on all sides make this area, a heaven on earth. The scene is simply out of this world. All this makes a great place to simply relax and forget all the worries in the world.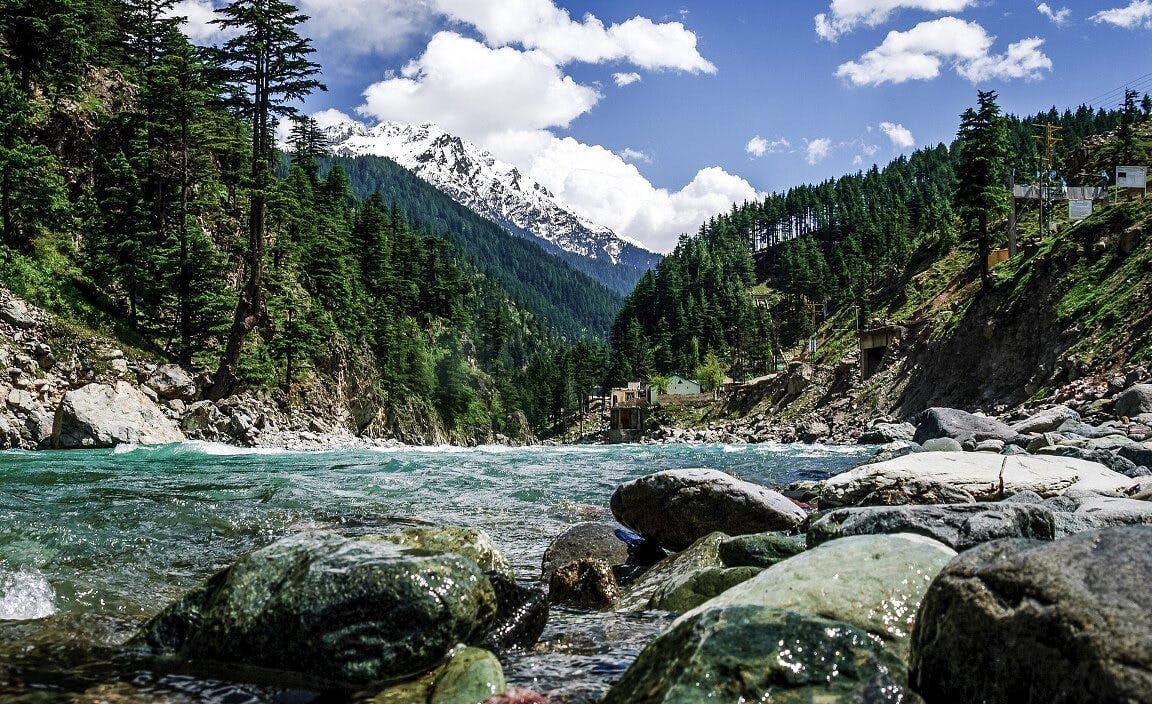 (Photograph by Designer429, distributed under a CC BY-SA 3.0 license.)
5.   Utrar
Utrar is another marvellous picnic spot at an altitude of 2200 and about 16 kilometers from Kalam.  It is also situated at the confluence of two beautiful streams. A place beauty of which is mesmerizing. A wonderful spot to spend some time and enjoy. Snow-clad mountains, cold water flowing nearby, and green pastures all around, make it a very attractive space. You can easily plan a day-long trip from Kalam and visit Utrar and the nearby places.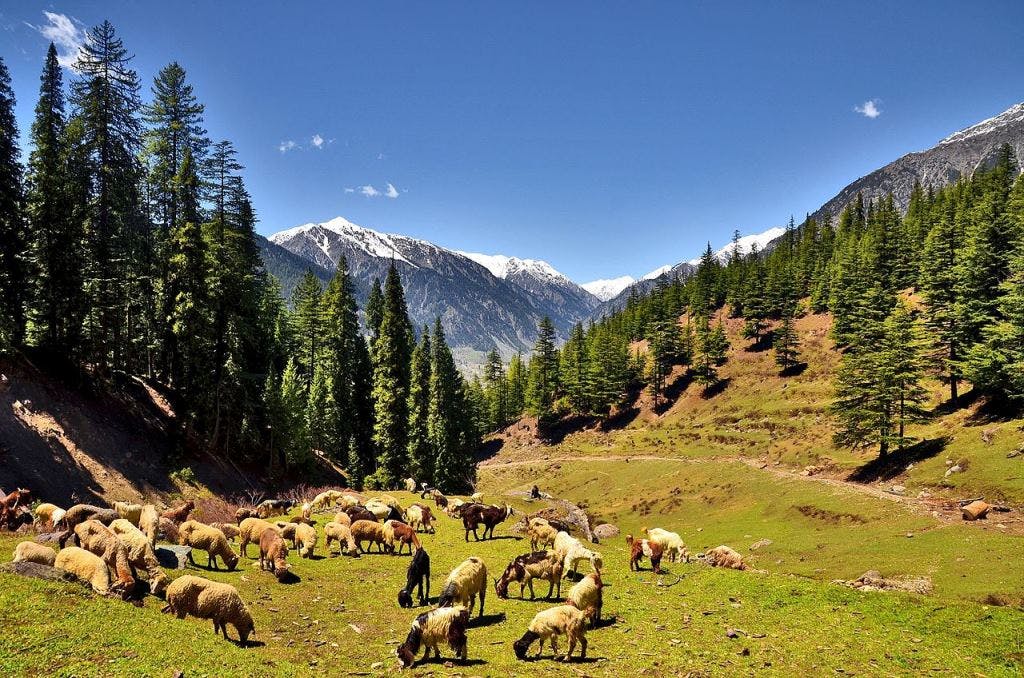 (Photograph by Muhammad Akram Attari, distributed under a CC BY-SA 3.0 license.)
6.   Gabral
Only seven kilometers from Utrar, Gabral is a fascinating place. It is famous for delicious trout, which you can relish while sitting literally in the flowing water of the stream flowing nearby. The road from Kalam is fine and not difficult to travel on. A wonderful place to eat, drink and play. Its location at the confluence of Utrar and Gabral rivers simply adds to its beauty.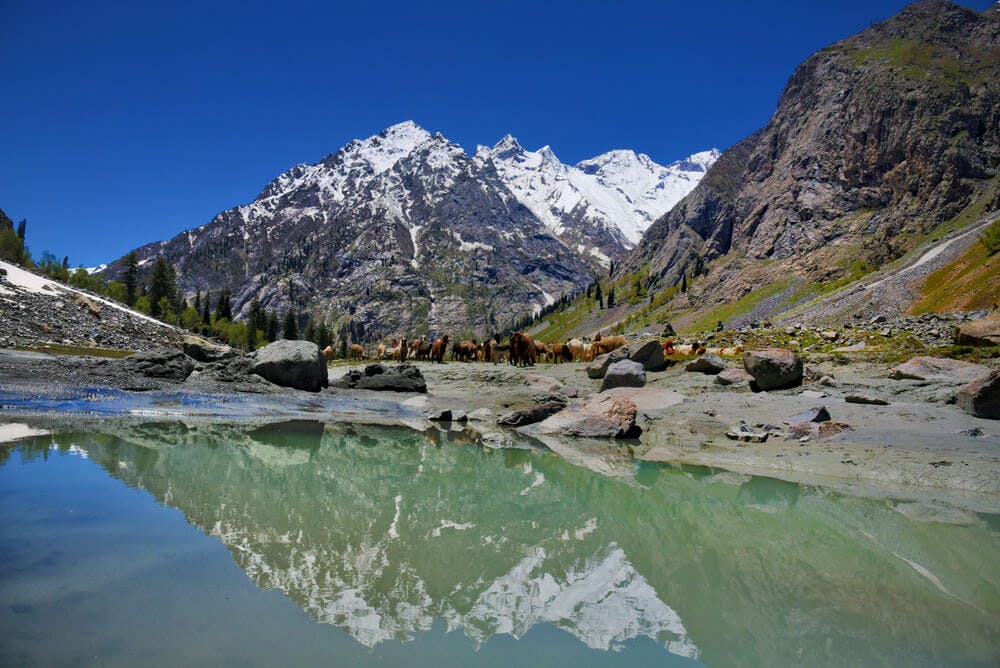 7.   Janshai Meadows, Kalam
It would be no exaggeration if I call this place fairyland. It is located at an elevation of 2,700 meters and only 8 kilometers from Kalam. But it is a place for hardy and sturdy because you have to leave your car at Blue Water point and cover a distance of about three to four kilometers on foot. An excellent opportunity for hiking and trekking. The track to meadows takes about three hours to cover, but once you reach there, the view will make you forget the whole hardship.
8.   Mahodand Lake
One of the biggest attractions of this area is Mahodand Lake, about 35 kilometers from Kalam and at a height of over 3000 meters. It takes more than two hours to reach this scenic lake in upper Ushu valley. A wonderful place for adventure lovers. A nearby waterfall is an additional attraction in these high mountains of the Hindu Kush range. The lake can be reached in summer, in winter it would be very difficult to reach here. Covered with alpine trees, it is a wonderful place for camping in summer.
To know about adventure spots in Pakistan,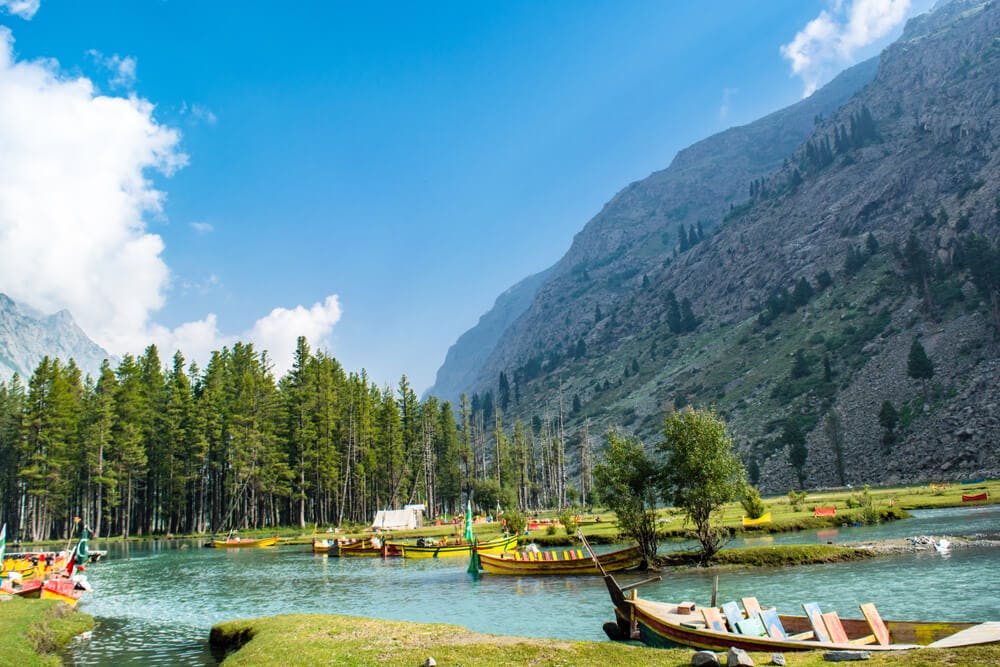 9.   Kandol Lake
A very beautiful lake, though a little difficult to reach. But not for those who are ready to accept the challenge of trekking for five to six hours. It is about nine kilometers from Utrar. Situated in a narrow valley surrounded by mountains rising to the height of 4500 meters, the lake is a place that is beyond description. The pristine beauty and amazing location of the lake give it an ethereal. It is advisable to take a local guide with you.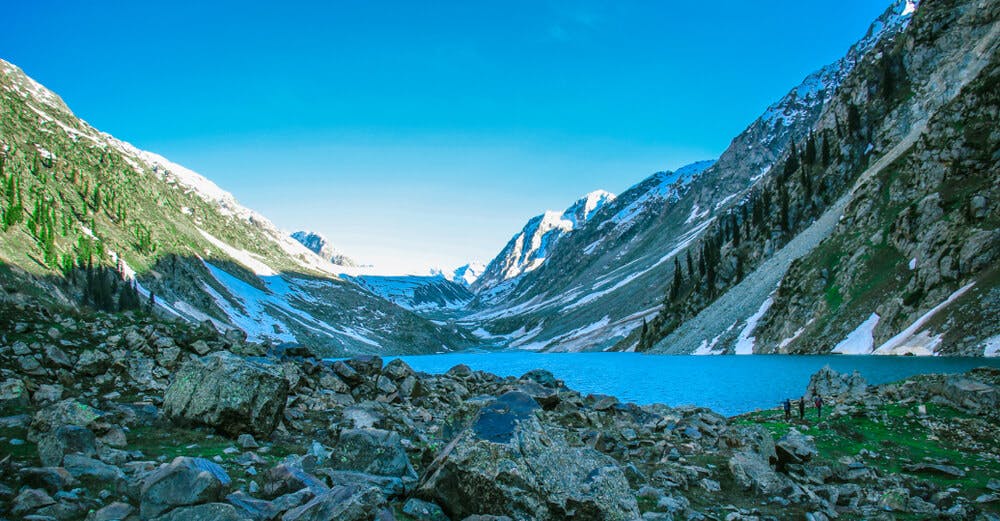 10. Izmis Lake, Kalam
Located at an elevation of 3,400 meters is a real challenge to reach. It is about 12 kilometers south of Utrar and most of the distance can be covered by trekking. But possible only, if you have proper gear and experience of trekking at such an arduous area. Be careful about the weather and take all precautionary measures before venturing off to such an arduous task. The area is simply breathtaking with gushing streams and roaring waterfalls, and snow-covered mountains.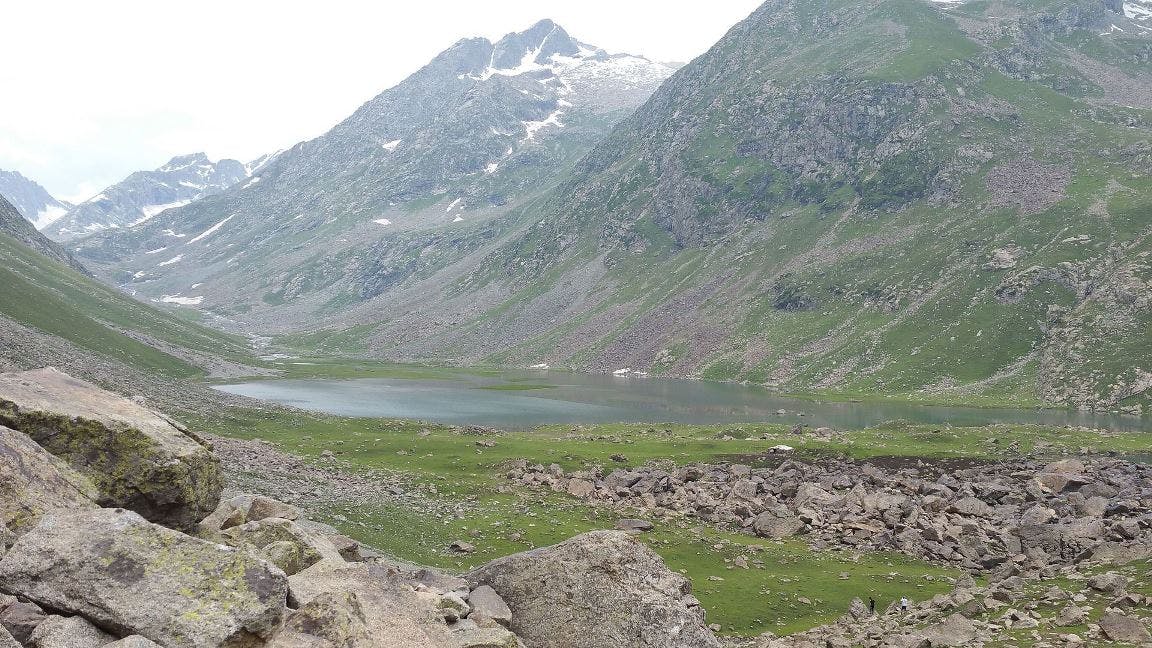 (Photograph by Shabeer.virtuemax, distributed under a CC BY-SA 4.0 license.)
11. Kalam Summer Festival
This festival is held every year in summer in the months of July or August in Kalam Valley. Many exciting activities and sports events are held for the entertainment of tourist. Paragliding, cycling, canoeing, and music concerts are some of the attractions of this festival. Local handicrafts are displayed and cultural shows are also held.
In short Kalam and the two adjacent valleys of Ushu and Utrar have abundance of natural wonders, like streams of crystal clear cold water, roaring waterfalls, mesmerizing lakes, snowcapped mountains soaring to the sky and above all alpine forests all around. I have given the link to a google map for your convenience, so that you may plan your visit more easily.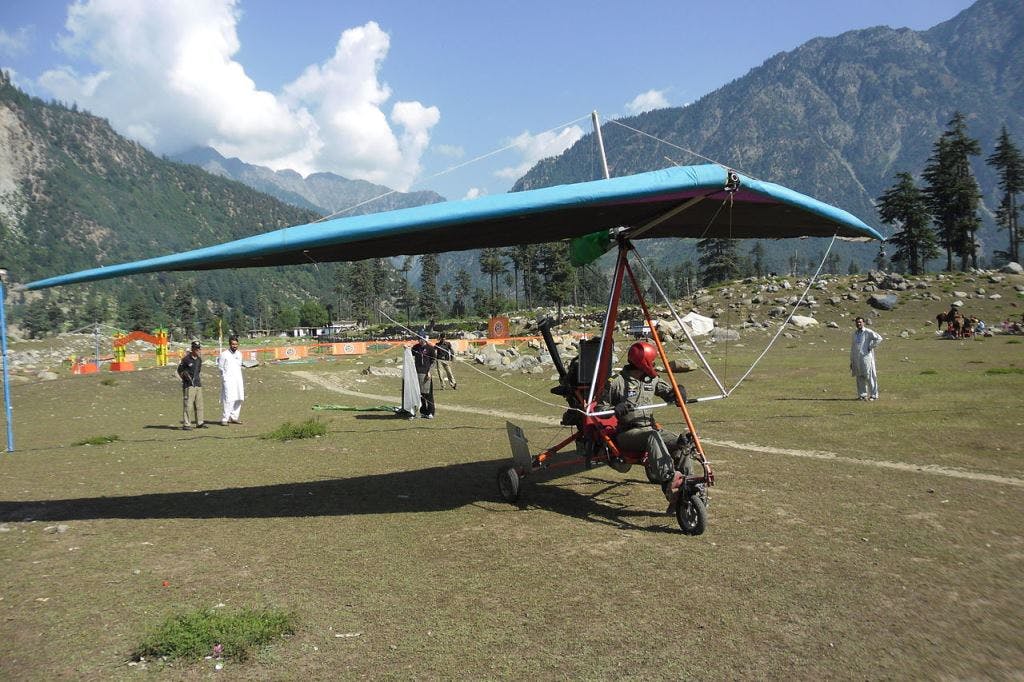 (Photograph by Noman Ahmed Awan, distributed under a CC BY-SA 3.0 license.)
12. Shahi Ground 
According to our recommendations, it is one of the must-see locations in Kalam Valley because you can get a bird's-eye view of the snow-capped Falak Sher mountain and the thick trees of the Usho jungle. It may be found a short ways away by turning left before entering the jingle, just before the Usho forest. A meadow-like area, it is famous for hosting Kabaddi games during winter celebrations.
13. Dhamaka Lake
It takes an hour to go 15 km to get to Dhamaka Lake via the Kalam-Utror route; you must turn right just before the Oshu jungle in Kalam Valley. It is a little, undeveloped lake, and villagers built a wooden path into the water so that visitors might enjoy the Dhamaka lake's chilly waters.
It is the most beautiful lake, and although it is not very deep, many people enjoy sitting there while putting their toes in the water. By immersing your feet into its chilly water while seated on one of the available chairs, you can have fried and barbecued trout fish at a reasonable price.
14. Matiltan Waterfall
The 13 km journey from Kalam Valley to Mahodand Lake to reach the largest natural waterfall in Kalam Valley takes around an hour. It originates from the Matiltan Glacier. This area is home to a well-known village of the same name that is encircled by shady walnut trees.
The Matiltan waterfall can be reached and explored here via cliff climbing, but due to the height of the waterfall, it is the most difficult cliff climbing. If you are not a skilled cliff climber, I would advise against trying it.
15. Blue Water Point
In Kalam, the term "Blue Water" refers to a picnic area or landscape rather than a specific lake or waterfall because of its bluish water. Despite being in the base of lush mountains, it stands out among Kalam's tourist attractions due to its naturally bluish water.
When traveling to Utrar, it is roughly 11 kilometers from Kalam; however, in order to get there, keep going straight on Utror Road rather than making a right turn. Although there may be poor cellular network connectivity and poor road conditions here, you won't be bothered by them due to the area's beautiful scenery.
Kalam Valley Location
Kalam Valley is located in Pakistan's KPK Province. There are several tourist attractions in this valley. Together with the sparsely forested slopes, the Swat Fluvial River encompassed the entire valley. Millions of travelers are drawn to the Kalam Valley.
Every place has a special significance worth seeing. The tourist will enjoy Kalam's combination of cool, first-rate weather and magnificent locations. The best months to visit Kalam Valley are from April to September, although the winters can be difficult. Additionally, the valley is a great place to explore while discovering Swat's natural splendor, and tourists enjoy hiking and fishing in its breathtaking landscapes.
What is the best time to visit Kalam?
Kalam Valley is accessible throughout the year, however if you want to enjoy the area's natural picturesque vistas, you should go there in the summer when it's cooler than other parts of Pakistan. Don't forget to visit Kalam Valley during the winter, though, when numerous well-known winter festivals draw travelers from all over the world.
How to reach Kalam?
Between Islamabad to Kalam, the total distance in a straight line is 1212 KM (kilometers) and 27.08 meters. Islamabad and Kalam are separated by 753.1 miles in a straight line. Since the distance between Islamabad and Kalam is a straight line, the actual travel time is likely to be longer or vary owing to road curvature. You can rent a car, drive your own vehicle, or take a daewoo.
FAQs
Does Kalam merit a visit?
The most well-known tourist destination in Swat is arguably Kalam Valley. In addition to numerous natural beauties, Kalam has stunning lakes, towering mountains, attractive valleys, and lush green woods. The most stunning location to visit when in Swat is Kalam thanks to these natural treasures.
Is it secure to visit Kalam?
The primary tourist destinations in Swat, like Mingora and Kalam Valley, are safe for visitors to visit, despite the fact that more distant areas still witness land disputes being settled with weapons. However, as anyplace in Pakistan, it does assist to have some local contacts.